About the Livingston, New Jersey Area
| | |
| --- | --- |
| | |
| | William Livingston |
In 1702, settlers from Newark purchased a tract of land that encompassed the areas now known as Caldwell, Livingston and West Essex. They paid 130 English pounds to the Lenni Lenape Indians. In 1811, seven hamlets -- including Teedtown (now Livingston Center), Northfield, Morehousetown (Livingston Circle), Cheapside (Livingston Mall), Washington Place and Squiertown (Route 10 Circle) got together and petitioned for the formation of The Township of Livingston.
Livingston was named in honor of William Livingston, the first governor of New Jersey and a framer of the Constitution. Livingston served as governor for 13 terms before he died in 1790.
| | |
| --- | --- |
| | |
| | |
Livingston's first town meeting was held on February 5, 1813. At this meeting, the people decided that the town should be run by a major and a township committee. About 100 people, mainly farmers, lived in town at that time.
In the early years, farming and lumber were the main sources of income for the township. Shoemaking became a major industry during the Civil War. The dairy business became Livingston's leading industry after the Civil War and remained so well into the 20th century.

The first school in Livingston was built in 1783, a one room schoolhouse on Northfield Road where Roosevelt Plaza is today.
The population grew slowly because the town was not close to a primary rail line. Mt. Pleasant Avenue, which runs through Livingston, was the first turnpike, or toll road, in New Jersey. Starting in the 1800s, stage coaches made what was then a one day trip from Newark to Morristown. Between 1813 and 1920, it increased from 1,000 to 1,500. The area became a commuting suburb after the invention of the automobile and the construction of hard-surfaced highways.
After World War II, housing developments replaced farms and many people moved to Livingston. The town grew very quickly; in 1950, there were 9,932 people, and in 1960, the population had jumped to 23,124 people. It peaked in 1970 with 31, 653.

In 1957, a new form of government, a Council-Manager form, was started in Livingston. A Town Council made up of five Livingston citizens was also created. Each year a mayor is chosen from among the members of the council.
According to the 2000 census, Livingston has a population of 27,391 people. Today's residents enjoy a comfortable suburban lifestyle with easy access to New York City and other areas of New Jersey. Interstates 80 and 280, the Garden State Parkway, the New Jersey Turnpike, and Route 24 are all close to Livingston. Prospective residents can choose from a variety of homes.
The town boasts a highly rated public school system. It has six elementary schools, two middle schools and a comprehensive high school that received the US Department of Education's Blue Ribbon Award in 1998. The town's recreation program includes two community pools, tennis courts, basketball courts and playgrounds, youth and adult athletics.

Livingston's quality of life excels in large part because its residents are active in more than 30 community boards and organizations.
Livingston celebrities include: NJ Governor Chris Christie, actor Jason Alexander, author Harlen Coben, NJ Secretary of State Nina Wells
Thanks to information from township intern Eric Chen and "Our Community: Livingston," by Riker Hill Elementary School teacher Maryann Levine

| | |
| --- | --- |
| | |
| | Neighborhood View |
Livingston Links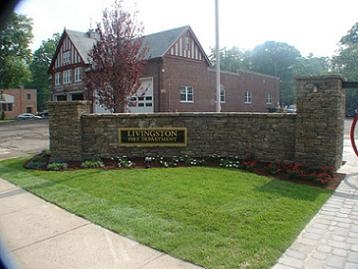 Livingston Fire Department

Request our Free Short Hills, Livingston and Millburn Relocation Package. It's packed full of useful and important information about the Short Hills, Livingston and Millburn, New Jersey area. Don't move here without it! Remember: we'll send it to you for free and without obligation. Just fill out the form and we will send it right out...
It's our job to know EVERYTHING about Livingston! Ask us any question. Or request a FREE information package. There's no obligation, and we promise to get back to you quickly...